F&B
Top instant foods and snacks to sell in 2021
---
Supermarkets and online grocers are seeing a surge in orders as people stock up on instant food items for their home pantry. Snacks and ready-to-eat meals such as self-heating pots are in high demand. As a retailer, how can you leverage on this opportunity?
First, know what consumers are looking for. According to Kerry, food trends in 2021 are driven by:
Convenience and innovation: As lifestyles and dining become more home-centric, consumers are searching for convenient meal options and innovative dining experiences at home.


Health: With a greater focus on health, consumers seek better-for-you products such as immunity boosting foods and healthy snacks that do not compromise on taste.


Conscious eating: As the sustainability movement grows, consumers are gravitating towards foods that are good for the environment, such as plant-based foods.
Instead of selling ubiquitous items like potato chips, take this chance to differentiate yourself with unique products that are made from alternative and healthier ingredients.
Based on our in-house research, these are the top food categories to focus on.
1. Noodles and rice - staples for the household
By far the best performing category in both Singapore and Malaysia, popular products include:
Self-heating meals: Self-heating hotpot (自热锅)and self-heating rice are in demand for their convenience and novelty. Top flavours include mala, beef and tomato.


Instant noodles: Glass noodle / Sweet potato vermicelli is particularly popular. Besides spicy and sour noodles, this includes lesser-known flavours such as spicy river snail noodles.


Low-carb ingredients: Konjac noodles are keto-friendly, low in carbohydrates and calories, and are popular among those on special diets.


Wholegrain and baked: This includes low GI (glycaemic index) noodles made from wholegrain that are diabetic-friendly, and noodles that are air dried or baked instead of fried.
Recommended items:
Angry Panda Konjac Noodles Self Heating Hotpot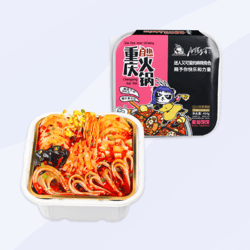 (Source: Trustana Wholesale)
Made of konjac noodles and a medley of vegetables, this self-heating hotpot is low on the glycemic index and suitable for those on low-carb diets.
Fresh Chili Flavor Rice Noodles
(Source: Trustana Wholesale)
Packed with flavour, silky rice noodles is paired with a fragrant spicy broth, making it a healthier alternative to flash fried instant noodles laden with oil and salt.
2. Ready meals - a gourmet option for foodies
An upgrade from instant cup noodles, these include convenient gourmet meal kits that allow consumers to recreate the dining experience at home without having to slog over the stove.
Popular products include:
Dishes with local flavours: Halal nasi goreng and Lauk - traditional side dishes that are paired with rice - are coming up top in Malaysia.


Assorted flavours and variety: Consumers want variety and retailers can gain an advantage by selling taste bundles that feature an assortment of flavours.


On-the-go options: Ready meals in retort pouches or instant hotpots are convenient and easy-to-eat options for workers who have to consume their meals on the road.
Recommended items:
Self Heating Tomato Flavor 5 Ingredients Hot Pot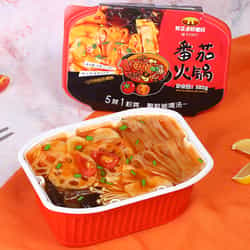 (Source: Trustana Wholesale)
Just add room temperature water to the self-heating pack, cover it and let it do its thing. There you have it - a rich tangy tomato flavor hotpot with diverse ingredients on your table in 15 minutes.
The self-heating hotpot also comes in with other flavours and ingredients, such as spicy and sour golden soup that has both seafood and vegetarian options.
Prima Ready Meals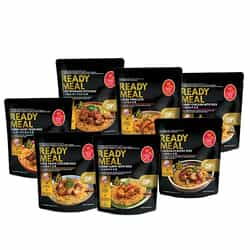 (Source: https://www.primataste.com/sg)
Prima Ready Meals offer rice-and-meat combos in local flavours such as beef rendang, chicken claypot rice, laksa fried rice and soya sauce chicken rice. Packed in retort pouches that can be stored at room temperature, these local dishes can be warmed in a microwave or eaten as-is without any fuss.
3. Savoury snacks
The savoury snacks segment is projected to grow at a CAGR of 10.8% between 2020 to 2025 and Singapore and Malaysia are both countries that see higher frequencies of snacking.
Some of the trends and opportunities in this segment are:
Mala and salted egg flavours: This includes snacks such as fish skin, prawn crackers and chips made from starchy vegetables (e.g. potato, cassava).
Dried fruit and nuts: Seen as a natural and healthy snack, nuts and dried fruit are versatile. It's high in healthy fats and serves as a low-sodium snack when unsalted. It's also popular among pregnant women as a nutritious, daily snack.
Keto-friendly options: As the ketogenic diet gains traction, there is a larger market for keto-friendly options such as crispy pork rinds and low-carb nuts such as pecans, macadamia nuts and hazelnuts.


Plant-based ingredients: Grain-free snacks made from vegetables are seen as a healthier choice. This includes snacks made from ingredients such as low-carb mushrooms, protein-rich tempeh and edamame. Popcorn, a low calorie option that can be flavoured in infinite ways, is also an underserved category with huge potential.
Recommended items:
Puffed fried dough twist with Seaweed flavor
(Source: Trustana Wholesale)
Combining the best of both worlds - crunchy texture and an addictive savoury seaweed flavour - these dough twists are packed with umami flavour, without being too overpowering or salty. Not your usual snack, but this will pleasantly surprise you.
Guzi Guzi Mushroom Chips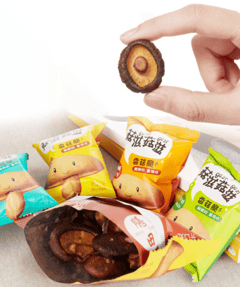 (Source: Shopee)
A healthier option than conventional potato chips, this snack features whole shiitake mushrooms that are cooked at low temperatures till crisp. It is a low calorie option, where a 120g pack of mushroom chips contains the same calories as a hard-boiled egg. It is available in four flavours - original, spicy, wasabi and seaweed - and serves as a guilt-free snack for adults and kids.
Differentiate yourself with unique products
It's easy to get lost among the sea of sellers in the food retail space. Differentiate yourself by sourcing for innovative products. Get the first movers' advantage by taking a chance on lesser known brands that feature unique and healthier offerings.
You can also achieve this by bringing in products from reputable or well-known brands that are not currently available in Singapore and Malaysia. Need some help getting started? Visit Trustana Wholesale to discover new products and get some ideas today.