F&B
The Virtual Sourcing Showroom for F&B Retailers in Asia
---
As a retailer, picking brands and products that are the right fit for your store is of utmost priority. During the sourcing process, you would want to know the products inside out before making the purchase. How are these products made? Have they been sold elsewhere and is there a track record of past sales? What do they actually look or taste like?
Relying only on product catalogues to answer those questions may be insufficient, while attending physical trade shows isn't the most convenient in current times. To help retailers make more informed decisions, we introduced our latest brands via an online livestreaming format - the Virtual Sourcing Showroom.
Virtual Sourcing Showroom by Trustana Wholesale
3 September marked the first session with an intimate set up of about 20+ companies from Singapore and Malaysia connecting with us online.
The Virtual Sourcing Showroom is a platform where we bring you live tasting and in-depth sharing featuring a different curated selection of emerging brands from Asia each time. In this run, we got up close with some of China's most well-loved F&B brands - Three Squirrels (三只松鼠), Baijia (白家), Chen Chang Yin (陈昌银) and more.
Free exclusive sample sets (worth S$53) were available for participants to order in advance and try them together with us during the session.
Getting to know the products in-depth
Our hosts Junius Ho and Rebecca Xing brought the audience through an hour of brand introductions coupled with live tasting. The products were curated based on their success in China and we highly recommend them to our retailers.
We kicked things off with Chen Chang Yin, an award-winning manufacturer of "mahua" / 麻花 (also known as Fried Dough Twists). Mahua is an extremely popular and iconic childhood snack in Chongqing, China, and is also rising in demand in Singapore and Malaysia - we've seen multiple restocks for this in just a couple of months!
Freshly made and comes in 3 flavours - BBQ, Seaweed, Tomato
Fast-moving shelf staple for retailers
Guaranteed shelf life of 3 months when purchased from Trustana Wholesale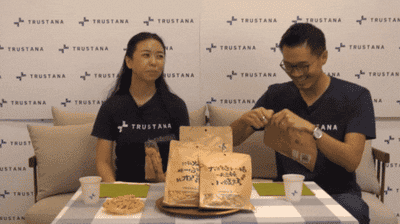 This was followed by Three Squirrels, a brand that needs no introduction. With immense popularity in China, their snacks achieved online sales of over RMB 100mil in less than 20 minutes during 11.11! Our hosts tasted the Pistachio, Cashew, Sweet Potato Peanut and the hot favourite, Dried Strawberry.
A healthy mix of savory and sweet in the most adorable packaging
Carefully sourced ingredients from high quality farms and naturally processed to preserve freshness
Credible brand that is IPO-listed on the Shenzhen Index in 2019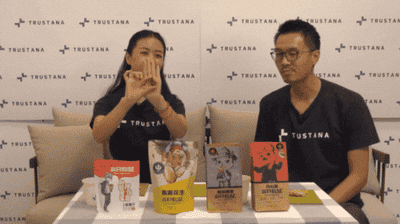 Probably the most awaited segment of this run, our hosts were extremely excited to be trying two of Baijia's latest products, the Shanghai Scallion Oil Noodles and Huaxi Beef Noodles.
The room was immediately filled with its aroma when the noodles were brought in. Gourmet flavours paired with the convenience of instant noodles - what's not to love?
Non-fried noodles and no cooking needed - just soak them in hot water
Generous serving size with multiple packets of condiments included
China's leading instant broad noodle manufacturer with 20 years of history
After all the snacking and noodle slurping, our hosts closed off the session with freshly brewed tea from three outstanding brands Sanjiang (三匠), Yangju (阳菊) and Huida Lemon (汇达柠檬). These healthy and tasty infusions are great for everyday consumption and suitable for people of all ages. Teas featured:
Sanjiang's Tartary Buckwheat, Jujube and Black Wolfberries
Yangju's Organic Chrysanthemum Flower Tea
Huida's Freeze-Dried Lemon Slices
Individually packed sachets with real ingredients in each bag (not powdered)
Carefully sourced from the best plantations in the highlands of China
High quality freeze-drying technology to preserve vitamins and taste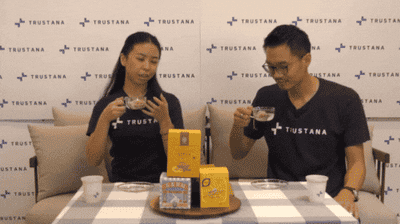 Online ordering with delivery in 7 working days
Throughout the livestream, participants were given the links to view and order the products directly on Trustana Wholesale. Product details such as the MOQ, weight and shelf life were also shared, and our hosts answered questions upfront such as if an import licence is required, or if the products are halal.
In addition, participants could schedule 1:1 consultations with our customer success team after the event to learn more about these brands, how they can start retailing them in their stores and provide any feedback they may have about the entire experience.
WATCH THE FULL REPLAY: See the products up close and hear more about the success of these brands! Disclaimer: don't watch this on an empty stomach.
An integrated online experience for our retailers
In our previous article, we talked about reinventing F&B sourcing and how retailers can leverage digital to stay agile and on top of industry trends. By providing you with a curated 24/7 platform to easily source for the latest international food and beverages, our aim is to take the load off you. Grow your business with brands your customers already love - visit Trustana Wholesale to find out more!
If you would like to receive future invites to similar events, subscribe to our mailing list below to stay updated!