F&B
How To Find The Right Food Suppliers For Your Business
---
Suppliers are an essential cornerstone of every F&B business, impacting areas such as
cost, quality and food safety. Just as how improvements made to your food procurement
process can lead to increased savings, finding reliable food suppliers can help you build your
reputation and bottom line.
How do I know if a supplier is the right match for my business?
The right supplier should be able to give you the quality you desire at a price that you can afford. Look for accuracy and timeliness as lapses in this area can disrupt supply or compromise shelf life and quality. This includes delivering your goods in the right quantity and condition when you need it.
The supplier should also have similar business goals and beliefs. For instance, if your business is passionate about sustainability, it is only natural to gravitate towards suppliers who focus on traceability and ethical sourcing.
Sourcing for suppliers may not be an easy feat - so if you are new to the process, here's a checklist to help you get started.
1. Understand your needs and budget by mapping your inventory
Photo by Sharon McCutcheon on Unsplash
Before you begin your search for food suppliers, figure out what you need exactly and the budget you can work with.

Categorise your ingredients for a clearer view of the number of suppliers required. Also work out the price points of your menu or catalogue and the profit margins required for the business to stay profitable. Knowing what you want provides focus during your search and cuts down on any unnecessary expenditure.

2. Research on suppliers' credentials and get multiple quotes

Start your search for food suppliers. Most businesses usually find their suppliers through recommendations or online search. This includes social networks, such as dedicated Facebook groups for small F&B businesses, or B2B marketplaces that make supplier sourcing much more convenient.

After identifying some suitable suppliers, get quotes from at least three different suppliers to see who can offer you the best value. You can also rely on recommendations from the sourcing teams on B2B marketplaces to shortlist your options.

Check on the legitimacy of potential food suppliers by asking questions to help you ascertain how transparent and reliable they are.

Some common questions include:
What is the total cost of the item, including shipping? Are there any additional freight charges or import duties?
What is the total time taken for production, packing and shipping? How do your lead time projections compare to your on-time delivery rates?


What are the contract terms and MOQ? Is there an evaluation period or a compulsory engagement period? What are the terms for termination?


What are the payment terms? Is it payment upon ordering or payment upon receipt of items?


How long have you been running your business? Do you have any references from businesses you have worked with that you can share with me?

3. Focus on quality: perform audits and get samples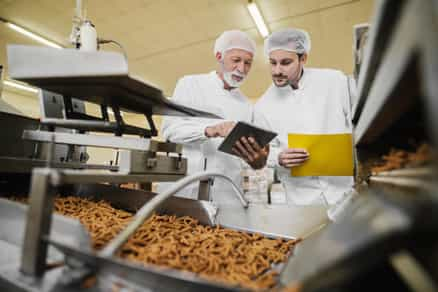 Affordability is important, but it is quality that differentiates good suppliers from the rest. Ensure your suppliers focus on quality as much as you do; visit their factory if possible, and get samples to check if it is up to your standards.
In addition, check if your suppliers adopt food safety standards such as HAACP or ISO 22000, and the measures they have in place for quality control. This includes the cleanliness of their equipment vehicles and packaging used to transport the food items.
If you are looking to work with overseas suppliers, visiting their factories for an audit may be tough. In this case, it may be worth leveraging on platforms such as Trustana, which pre-screens all international suppliers on their platform by performing third-party factory audits to ensure quality standards are met.
4. Continue to build relationships with your food supplier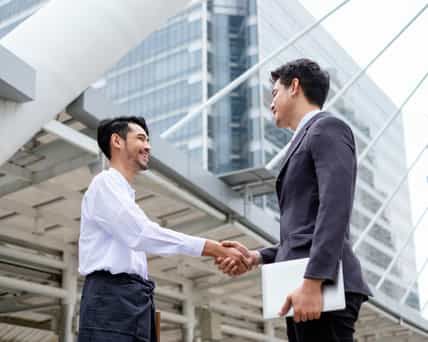 Once you have found the right supplier, continue building that relationship as they are a key partner in the growth of your business.
Here's how:
Pay your bills on time


Credibility works both ways. Just as how you trust suppliers to deliver quality goods consistently, hold up your end of the deal by paying for your orders promptly each time.



Share information


Be open to sharing feedback from customers as well as business insights on sales and inventory. This helps suppliers react to trends, and even forecast your orders and adjust for demand accordingly.



Communicate honestly


Build rapport by giving credit where it is due and treat your suppliers with honesty and respect. If there is feedback on the delivered items or improvements that can be made, raise it to your supplier tactfully and work things out together.
Choose your food suppliers as how you would pick a business partner
Cheaper isn't always better. When it comes to choosing your food suppliers, take a long term view and look for partners who can help to grow your business in the long run. Instead of having to switch suppliers midway, look for reliable food suppliers who can deliver in terms of price and quality from the get-go.